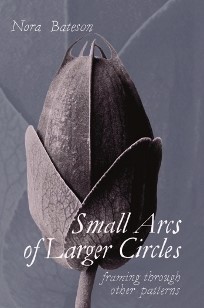 In her new book 'Small Arcs of Larger Circles', Nora Bateson invites us to weave together the rigor of systems thinking and complexity thinking with the expansiveness of our embodied, aesthetic experience - and introduces us to a new language and vocabulary of contextual, mutual learning.
Professor Evan Thompson of the University of British Columbia and co-author, with Francisco Varela, of The Embodied Mind has this to say about it:
 "...a marvellous meditation of moving words making new pathways manifest in a lush and densely interconnected forest of ideas and experiences. Poetry, philosophy, and memoir merge in ecological thinking at its best."
If you've ever struggled with any of Gregory Bateson's writing... or wrestled with the mechanical nature of systems thinking... or wondered how to reconcile ecology, passion, food, science and complexity... or looked for a humane way through our current political/ environmental/ economic/ religious/ racial omnicrisis... try Nora Bateson's Small Arcs of Larger Circles.
 Published at the end of this week, you can order it now for immediate dispatch from Triarchy Press or preorder it from amazon.com.
 "...ranging through linguistics, biology, semantics, cognitive theory, justice awareness, and embrace of paradox, Bateson invites and advocates suppleness of perception, rigor of mind, and depth of feeling. In this book that moves above all by its questions, Bateson embodies that rarity, a truly free thinker also fully engaged with the fates of all."
Jane Hirshfield, Chancellor of The Academy of American Poets
 [Adapted from Triarchy Press  release by Terence Love]